AUTOMOTIVE
Laser processing solutions for automotive
In the area of the automotive industry, high quality, durable and permanent marking ensures the identification and traceability of the products. For years, the automotive industry has relied on Baublys for their automotive production.
The requirements for the marking of the products can´t be more varied. Starting with the well-known day / night design mark by removing paint on switches, buttons and controls, so that the base material to be backlit becomes visible, for direct inscription of individual nameplates, up to black and white marking on metals.
All labeling requirements can be implemented extremely flexibly with the use of a laser marking system. Continuous serial numbers, various 1D & 2D codes, logos and much more, can be labeled with a single laser marking system individually and also partially or fully automatically on the product.
With the use of a camera system, the position and orientation can be detected, the caption can be automatically adjusted, and the content and quality can be checked. Thus you achieve high quality assurance as well as high production efficiency.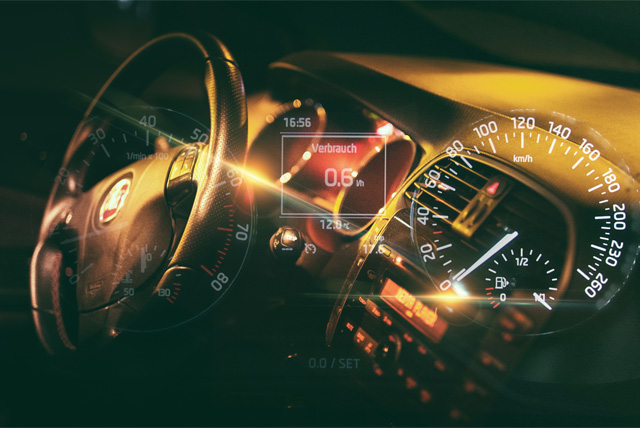 Possible laser marking methods:
Annealing
Marking and cutting foils
Colored annealing
Color / anodizing and paint removal
Surface structuring
Marking
Deep engraving
3D deep engraving
Laser cutting
Foaming
Carbonization
Some other application examples
More applications on automotive industry
Oiled parts

Molded

Black and white marking on metal

Data Matrix codes

1D&2D codes,logos,individual data

Deep engraving for stamps

Nameplates

Marking and cutting of foil

foaming/carbonization

Day/night design marking

Automation with conveyor belt, rotary table or robot
Advantages
High efficiency is achieved by an extremely flexible laser marking system, which adapts quickly to changing requirements.
High economic efficiency, identification, traceability, quality assurance through testing with integrated camera, database connection with feedback of the labeling, high quality, durable and permanent marking, optimal and long-lasting readability.